Tabex, Cytisine the Effective and Fast product to Stop Smoking!
Quit smoking! Stop smoking with Tabex!
Tabex A Modern And Reliable Method For Giving Up Smoking!
For Clean Lungs And For A Healthy Hearth! Stop Smoking With Tabex!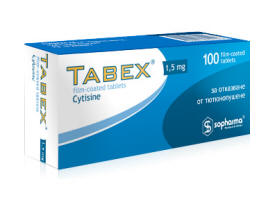 THERAPUETIC RANGE AND TOLERANCE
The therapeutic range of cytisine is much greater than of nicotine.
The daily therapeutic saturating doses of Tabex is 1.5 to 9 mg. The pharmacodynamic results obtained by Barlow et al. show that when applied at much higher concentrations in comparison with those of nicotine, Cytisine causes parasympathetic block of N-cholinergic receptors. Thus, for instance, the upper cervical ganglion of cat is blocked with 1.17+/-0.07 against 100 nmol for nicotine.
Tabex is very well tolerated, it does not provoke anorexia, nausea and vomiting in therapeutic doses. When applied according to appropriate schedule, it enables smokers to give up smoking gradually, without developing abstinence symptoms.