Tabex, Cytisine the Effective and Fast product to Stop Smoking!
Quit smoking! Stop smoking with Tabex!
Tabex A Modern And Reliable Method For Giving Up Smoking!
For Clean Lungs And For A Healthy Hearth! Stop Smoking With Tabex!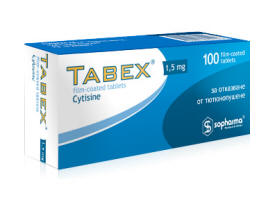 TABEX (CYTISINE) INDICATIONS
Tabex is a drug of choice of treatment of chronic nicotinism. It is particularly appropriate for treatment of risk groups of smokers with health problems on the part of the cardiovascular and respiratory systems, as well as smokers professionally subjected to tension and stress that are predisposed to seek a "false comfort" in nicotine or other drugs causing dependence.
TABEX (CYTISINE) CONTRADICTIONS
Advanced atherosclerosis, some forms of schizophrenia, pheochromocytome, conditions connected with severe impairment of the cardiovascular system and malignant hypertension.
Additional Important Usage Information
TABEX (CYTISINE) DOSAGE
Tabex is administered orally in a dose of 1 tablet every 2 hours (6 tablets daily) for 3 days at corresponding reduction of the number of smoked cigarettes.
The treatment proceeds according to the following scheme:
from the 4th to 12th day – 1 tablet every 2,5 hours (5 tablets daily);
from the 13th to 16th day – 1 tablet every 3 hours (4 tablets daily)
from the 21st to 25th day – 1-2 tablets daily
Complete discontinuation of smoking must occur by the 5th day of treatment.
TABEX (CYTISINE) OVERDOSAGE
As antidotes at overdose of the preparation Tabex one may use tranquilizers (anticonvulsive effect) and antihypertensive drugs (decrease of the blood pressure).
TABEX (CYTISINE) SIDE EFFECTS
The high doses may provoke nausea, vomiting, dizziness, tachycardia and muscle weakness. These effects pass quickly after the dose is decreased.
TABEX (CYTISINE) DRUG INTERACTIONS
The analeptic effect of cytisine decreases during combined therapy with antituberculosis drugs (PASA, streptomycin, etc.).
TABEX (CYTISINE) WARNING
The drug should be administered carefully to patients with exacerbated peptic ulcer. After completing the treatment course, the patients should refrain from smoking even one cigarette, in order to obtain a lasting effect.
TABEX (CYTISINE) SUPPLIED
Filmtablets of 1.5 mg in packages of 100.